For over twenty years, we at Hog Roast Hailsham have been trusted by professionals and businesses alike, to provide top quality, fresh cuisine and exquisite service that is a reflection on the high standards they set for themselves. The key to our success is preparation. Not only do we arrive early and take the time to slow cook our meats in order to achieve the most succulent, flavoursome taste, but we meet with you the client prior to your event to discuss all the particulars, including choice of menu, location and number of guests, as well as any special requirements you may have.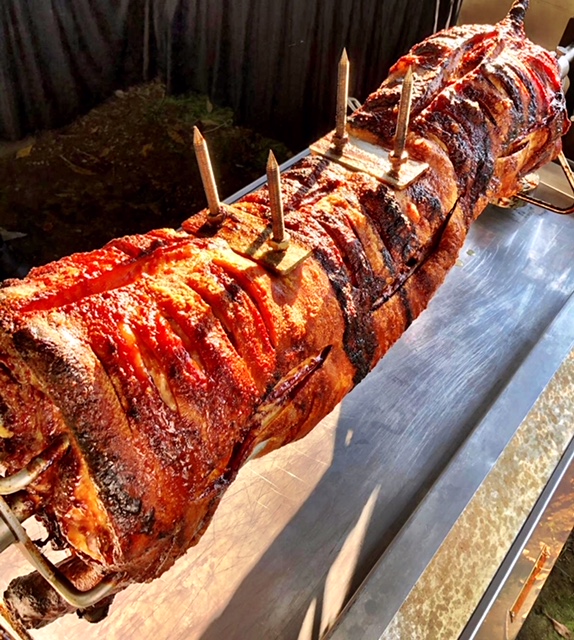 Over the recent weeks, one woman who got to experience the professionalism of Hog Roast Hailsham for herself, was Katie. As the CEO of a small chain of garages, Katie was looking to attract investment and expand her business portfolio. She had invited the board of directors from another, larger chain of auto-shops to come and enjoy some fine food and entertainment, whilst discussing the potential of a merger or an investment at her company offices.
In addition to a spectacular Hog Roast – which never ceases to amaze guests with just how wonderfully tasty it looks as it roasts on the spit – Katie also chose a selection of canapes and desserts for the guests to choose from, as well as a Whole Roast Salmon as a vegetarian alternative for mains. Among the selection of canapes were the griddled Halloumi kebabs skewered with caramelised onion, the Peking Duck Wraps and the Mini Homemade burgers. All the food was served buffet style and was available for the duration of the event.
As well as our food, there was also drinks and entertainment for the guests to enjoy, and everybody was having a lovely time. But undoubtedly, it was the mighty Hog Roast that was the real star of the show, and the chef had guests coming up to him all night with questions about our services. When the night was done, it was time for our marvellous team from Hog Roast Hailsham to tidy away their mess discreetly and remove any waste to be disposed of off-site. Katie thanked us for providing service that was a reflection of her own.