A seaside clubhouse was our port of call last week, when Hog Roast Eastbourne were asked to provide one of our classic slow-roasted buffets for the launch party to mark the opening of a new Water Sports Activity Centre. After 2 years of hard work and determination, sailing enthusiasts Paul and Lorraine have finally realised their dream of opening their own aquatic adventure centre, offering sailing lessons, windsurfing and many other exciting activities. Whilst we might not know our port from our starboard, we certainly know how to make any launch party a huge success with our superior quality and wide variety of menus!
They asked us to do the honours in the food department not only because they wanted high quality food, but also because we have the flexibility to cook both indoors and outdoors. With everything else planned to the smallest detail, the weather was something they couldn't control, and they wanted the reassurance of having the option to have the party in the clubhouse if it was pouring down. Which of course it was! This was not a problem for Hog Roast Eastbourne and we were more than happy to set up inside, rather than on the jetty as planned. We can cook in any venue without dominating the space because we are so confident in our equipment, methods and skilled catering team. We only bring with us exactly what we need, and our machines are designed to be compact and easy to transport, whilst being able to produce enough food to feed a crowded clubhouse!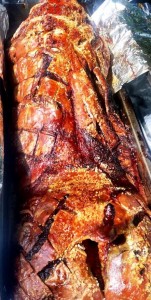 The opening of the new centre had been widely advertised and Paul and Lorraine were overwhelmed with the turnout, not just from water sports fans eager to enrol on a course, but also from members of the wider community who were very happy about this new addition to the local area and the extra business it would bring. Hog Roast Eastbourne are never overwhelmed when we are catering for big events, even if there are a lot more people than anticipated, we always manage to feed every guest and make sure everyone goes home full and happy! We dealt with the unexpectedly huge turnout with our usual high level of friendly and efficient service and gave all of the Paul and Lorraine's new sailing pupils a meal to remember!