With May bank holiday approaching Hog Roast Littlehampton have been busy preparing our teams for various different events. Whilst Hog Roast Littlehampton are capable of catering all types of occasions whether that's birthdays, weddings or corporate events this bank holiday the most common request was for a BBQ.
When we cook a BBQ, we transform our trusty Hog Roast Littlehampton machine into the largest and most durable BBQ you've ever seen. This is due to the BBQ attachment and means we have unrivalled ability to cook the most delicious BBQ's possible.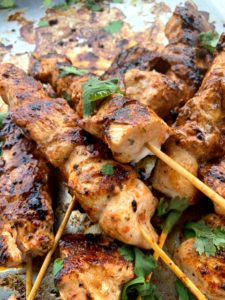 For todays event we were catering at the home of Angela who had requested a BBQ menu for twenty guests of her family and friends. With any BBQ we always endeavour to source our ingredients as locally as possible as this means we are able to support other local businesses and often time means we can source the best quality food without compromising on the price for our clients.
Angela told us that she would be requiring a couple of vegetarian options and plenty of accompaniments and so we would be busy preparing the food for a serve time of two 'o' clock. Upon arriving at Angela's home, a lovely converted farmhouse in the British countryside we could tell this was going to be an idyllic day as the sun began to shine. First things first was to get the meat cooking away and we had a brilliant selection; butchers selection burgers and sausages, chicken skewers and for the vegetarians halloumi and grilled vegetable kebabs. Delicious!
When the guests arrived, we were pleased to begin serving. Angela had asked us to provide food over two hours and thanks to our trusty machine we were able to keep a constant rotation of food on the go so that when people were done mingling they could always pop over to us to grab a plate full which is just how a BBQ should be!