In the recent weeks, the team at Hog Roast Ditchling were invited to take part in a local community fayre that aimed to raise money and awareness on the complex and varied issue of mental health. Jane the organiser, is a local primary school teacher who has seen the number of small children suffering as a result of a mental health issues, increase exponentially over the last few years. She decided to organise a community fayre on her school's playground, and invited a whole host of people to attend, including other local schools.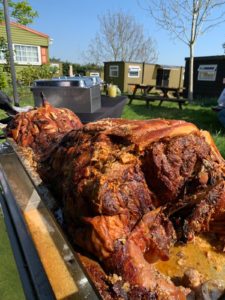 As this was such an important event, we offered Jane a fantastic deal on our services. The fayre would take place over the duration of an afternoon and there were plenty of guests expected to attend. We wanted to serve something that people could eat easily with their hands, and on the go, so we decided to serve our Hog Roast in crusty bread rolls with a selection of sauces – otherwise known as our pigs in buns.
We arrived for eight o'clock in the morning when only a handful of people were on site, setting up their various stalls. Many local businesses that run activities for children had also been invited, as well as mental health charities with vital information we need to tackle the stigma surrounding mental health. A few hours later, when the guest began to arrive, our Hog was near completion and its glorious scent was wafting through the air. Slow cooking our meats is the key to achieving the perfect combination of tender, succulent meat and crispy crackling, and our tried and tested methods never fail to impress. And nor did they fail today! Within ten minutes of us starting to serve, a massive queue had formed and there were many hungry mouths to feed.
The small team, consisting of the chef and catering assistant, from Hog Roast Ditchling had a delightful day serving all the smiley children and parents, and they took extra pleasure in the fact that it was all for such an important cause. At the end of the day when everybody had been fed, there was nothing left to do for the team from Hog Roast Ditchling but tidy away their mess discreetly and dispose of any waste offsite.