Hog Roast Bexhill enjoy nothing more than making our clients happy with our slow roasted foods. Our professional catering teams have been preparing hog roasts for over a decade now and so it's safe to say we know a thing or two about the ancient art of hog roasting. We find that the secret often lies in how long you allow the meat to cook- the longer the better. Hog Roast Bexhill pride ourselves on providing only the most succulent meats that really do melt in the mouth and it's all down to the way we roast our meats. Our Hog Roast Bexhill roasting machines have all been hand crafted to reflect our catering needs and as such we are able to prepare the meat and leave the machine to do the rest of the work, simply checking on it every few hours. By leaving the meat alone to cook it becomes beautifully flavoured and succulent every single time!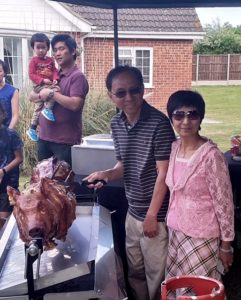 For today's event catering manager Peter was in charge of preparing a classic spit roasted pig for our client Mr Jim. Mr Jim had also requested some Grilled Vegetable and Haloumi Skewers, served with Pitta Breads and a Tzatziki Dip for the vegetarian option along with a mixed salad and coleslaw plus sweet potato chips! What a great meal this was going to be.
We had been told beforehand that the event was a housewarming party at Mr Jims home and so we were out to impress to make sure all of the guests were enjoying themselves. With fifty people and a serve time of four 'o'clock we had even brought along some wooden crockery so that Mr Jim wouldn't have to worry about the washing up and could really just enjoy his event to the fullest.
In no time serve time had arrived and we were nonstop working to give everyone a taste of the Hog Roast Bexhill. The event seemed to go well with a brilliant comment from Mr Jim to end the night with him saying it was a 'number one pig!'.