With both the growing popularity of gin these days and the increasing popularity of a hog roast, why not put the two together for a guaranteed sell out event??
That's just what Will had decided to do last weekend. As the owner of a new gin bar he was looking for a caterer that could provide food throughout the day for a varying number of guests and he decided that Hog Roast Hove would be perfect for the job and we of course agreed!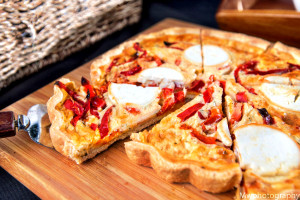 As the number of guests was indefinite, we decided that the best bet would be to roast a couple of large hogs throughout the day to be served up in a classic Hog Roast Hove roll. This would be sure to please the majority of guests, but we made sure to have some gluten free rolls too and of course provide some vegetarian and vegan options. Our chef had made a homemade vegetable tart suitable for vegans too along with some veggie bean burgers that could be topped with our famous applesauce too.
Will had told us to expect a lunch time rush and then a steady number of customers up until dinner time by which point his opening party would begin. We were surprised to see that the day was constantly busy with customers eager to try out both the new gin bar and our Hog Roast Hove which was great to see.
By the evening, we had already served up two whole hogs and were now onto the third which was happily roasting away. Will welcomed everyone to the opening party with a toast that celebrated small businesses and thanked Hog Roast Hove for coming along and doing the catering. It was an all-round success for the opening night as Will told us they had even been taking bookings and reservations for tables weeks in advance which he hadn't been expecting.
Here at Hog Roast Hove we always like to support local businesses so well done Will, we are sure we will be making another visit to your bar soon!